What to write in your New Year's Card
You've chosen the ideal photo card design for your New Year's cards. Now it's time to properly sign your end of the year greetings with just the right sentiment. If you need a little inspiration, we've compiled some heart-warming winter wishes you can include in your cards to help loved ones feel excited and ready for the year ahead.
General 'Happy New Year' Messages
Here's to a year of new blessings!
Have a sparkling new year!
The best is yet to come.
Here's to the next chapter!
New year, new beginnings!
Goodbye 2021, Hello 2022!
New year, new chapter
New adventures, here we go!
New adventure around the corner!
May this new year be filled with love and cheer!
2022 will be YOUR year!
Here's to the future.
To a new year of new possibilities.
Wishing you holiday cheer and a happy new year!
365 new days. 365 new chances.
Here's to giving and living!
New year, new attitude!
Have a prosperous New Year!
Wishing you a happy healthy New Year!
May the new year bless you with health, wealth, and happiness.
Funny New Year's Messages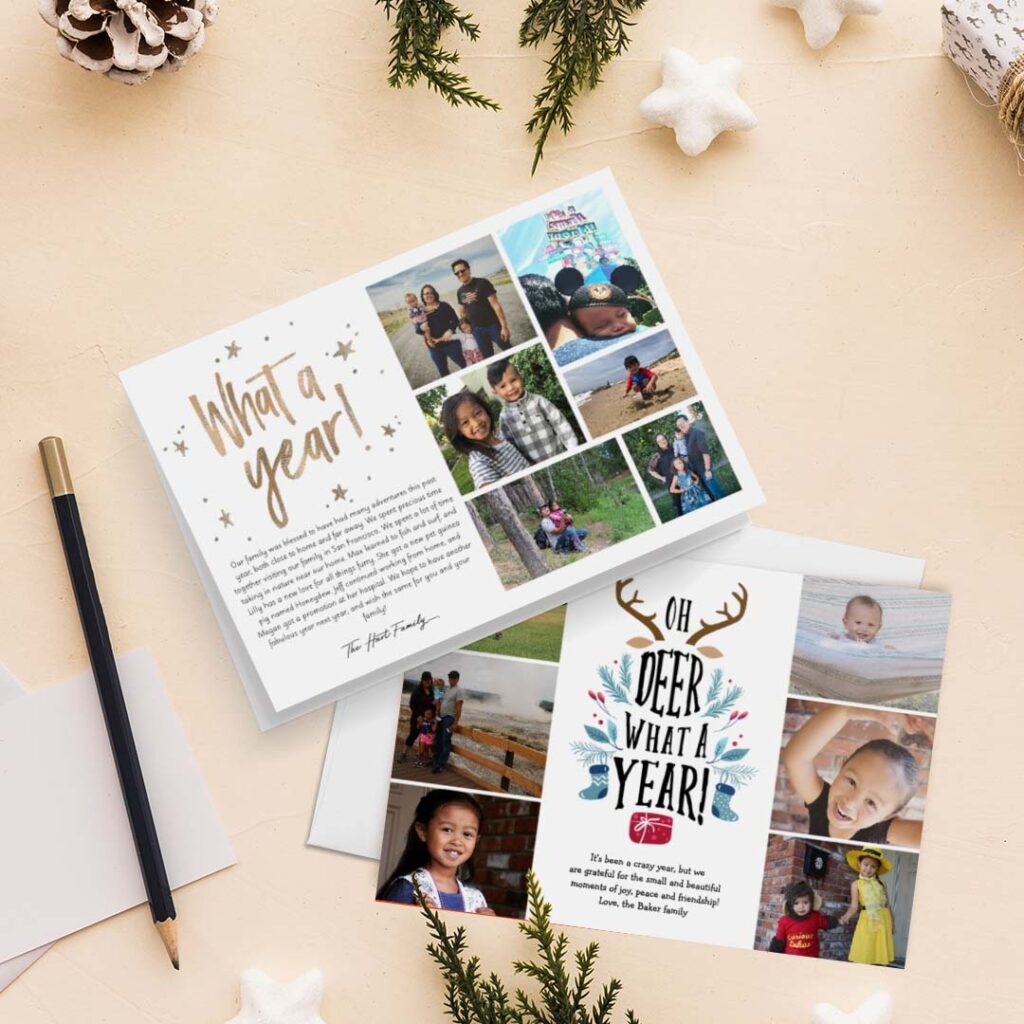 I promise not to let you do stupid things alone in 2022.
I would wish you success and happiness in 2022 but you've had plenty this year. Happy New Year to ME!
Can't wait to waste another year with you, bestie!
You will be a little older, a little rounder, but none the wiser. Happy New Year!
It's time to make old mistakes in new ways… Happy New Year!
Here's to a mediocre New Year! Hey, being honest is one of my resolutions.
Dream small, and you can achieve it all. Happy New Year!
Let's sparkle in the New Year. (Or maybe sweat just a little.)
Cheers to the New Year, but booze to forget the old one
The coming New Year is no joke. It just feels funny.
In the New Year, let's run around together. Literally. We need to lose weight
This year, I resolve to remember why I came into the room.
New Year, new start, even if you're an old fart. Happy New Year full of joy and laughter!
New Year's Greetings For Family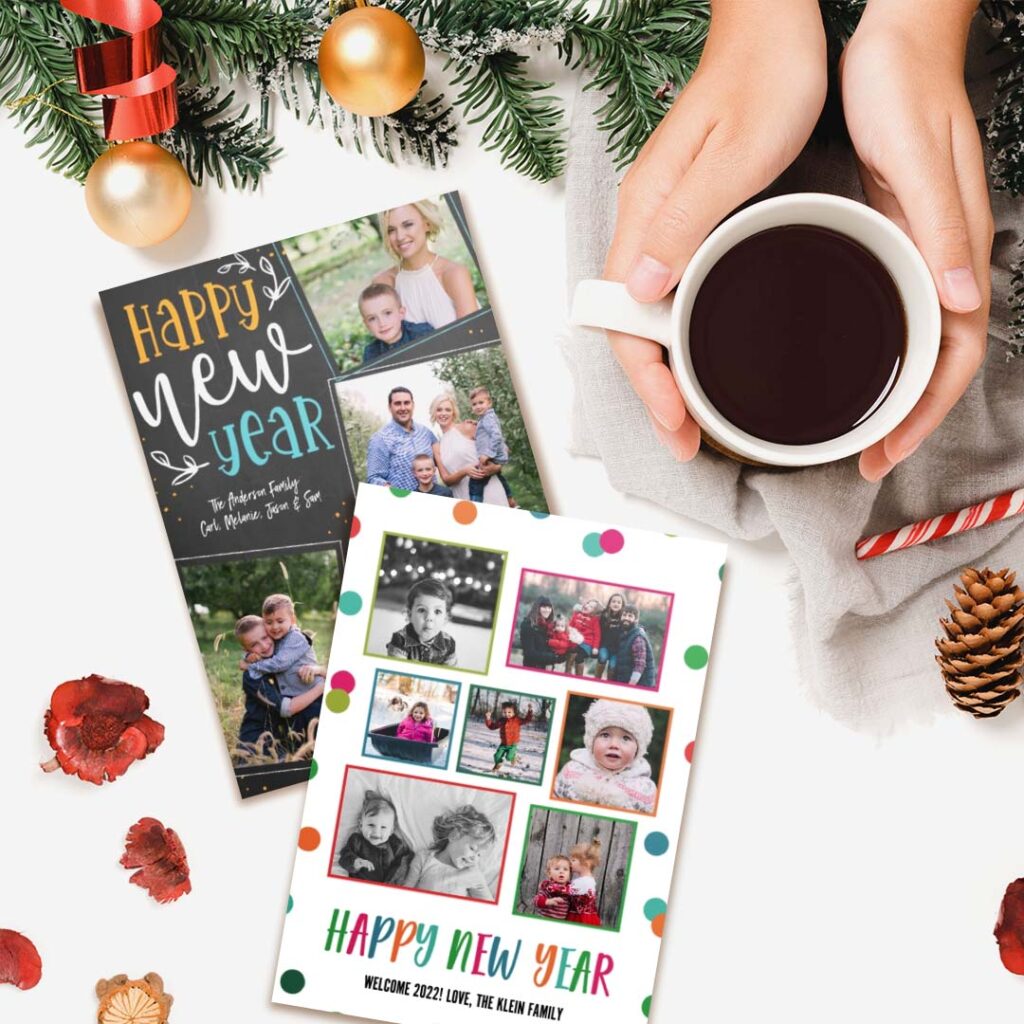 Happiness and prosperity are the two things that only matters to me being a member of this beautiful family. May we all have a Happy New Year!
Can't wait to ring in the New Year with all of you. I am so lucky to have such a great family.
I'm so grateful to have you in my life. May this year be the best for all of us.
The only thing I wish to remain the same next year is the warmth and love that our family offers to us. See you in 2022!
Let this New Year be the loveliest of all with cherished moments of joy your way.
To my Family: You were always my guide and the brighter example to follow. Hope the New Year bring the brightest light in our soul. Happy New Year!
wish you happiness, good health and well-being from the bottom of my heart!
I have the support of you, my wonderful family, and that's why I can take on every problem and struggle in life. Thank you and Happy New Year with all my heart!
New Year's Wishes For Friends
We have held each other through life's happy and tragic moments, and we will again through the new year and beyond. Happy 2022!
Here's hoping you'll find your heart's desire in the days that lie ahead. Have a happy and healthy New Year!
As this year comes to a close, I'm thankful for the role you've played in making it so special. Here's to another great year of enjoying our special friendship together.
May each challenge you face in the upcoming year be met with a spirit of optimism, courage, and hope. Wishing you a wonderful New Year!
Best friends don't fade away. They grow old together, retelling the stories of good times, and revising the not-so-good ones. Cheers to us this New Year.
I thank you for all the fun times, the crazy times, and the cringe-worthy times. These are the moments that define what it's like to have a best friend like you. Have a joyful New Year.
Happy New Year to a friend who is really more like family to me. I hope your life will be blessed with hope, courage, strength, and faith to overcome every obstacle in your path.
I knew I could make it through everything I faced this year because of you. Thank you for your awesome friendship!
I'm so proud of everything you accomplished this year, and can't wait to see what you do in 2022!
Here's to another year full of joy, laughter, and unforgettable memories with an unforgettable friend!
Romantic New Year's Messages
Your love is like a fire cracker that illuminates me with a bang and a boom. I can never get tired of it, in fact, I'm looking forward for more. Let's both have a blast this New Year my love.
Darling, you are the love of my life and my inspiration. I wish you a happy new year!
I can't believe I have this awesome life with you by my side—cheers to another year of growing, loving and persisting. Happy New Year!
In the New Year, I want to see you happy and smiling. I know The New Year will be more fun and beautiful with you. Happy New Year, my love.
Whatever good happened to me, it's because of you. Happy New Year, sweetheart!
Thank you for the inspiration. You will always be my love, not just this New Year but for many more years to come.
With lots of love, I wish you a very Happy New Year. May the love that we share grow deeper and stronger in this upcoming year.
Life is special with you in it. Life is meaningful with your presence. May 2022 bring more moments of romance and affection for us. Best New Year wishes to the love of my life.
New Year's Messages For Employees
I wish you all the success and prosperity in the coming new year!
Thank you for all the hard work you do. Happy 2022!
Top requirements for this brand New Year: lots of joy and bundles of good cheer!
We would not have achieved this great success without you. Wishing you and your family a very Happy New Year.
May you continue to grow and shine in 2022!
Last year was great, this one will be greater. Happy New Year, my valued employee!
New Year's Messages For Colleagues & Co-workers
You have always been an inspiration to lots of people at work… Wishing you another successful and prosperous year!
Every year brings along hidden opportunities. May you make the best out of these and rise high in your career. Best wishes to you and your family in 2022!
We have always made a great team. Here's to another year of successful stories and new achievements!
Thank you team for all your work. New Year's cheers all around!
Working in the office has been great fun and you, my team, always get the job done. Now, let's party!
Out with the old, in with the New. Last year was fantastic, this New Year 2022 will be too!
New Year's Messages For Your Boss
A good example, that's who you are to us. May this year be a road filled with laughter and success. Happy New Year!
You are an awesome boss! Thank you for giving me the chance to work for you. Happy 2022!
I want you to know that you are amazing to work with. Wishing you all the best in the new year.
I feel proud to have you as my boss. You are the role model of my life. Working for you is always fun. Happy New Year, Boss!
Boss, Thank you so much for all your support. Wishing you a very happy new year!
Dear boss, you are a true inspiration for me. I am so grateful for you. Happy New Year!
Religious New Year's Messages
Wishing you a new year full of worship, love, and all good things from above. Have a very blessed New Year!
The gift of a new year is one of God's many blessings. Count your blessings as you countdown to the new year, and thank God for each one!
Let us pray for a prosperous new year full of opportunity and strength! Happy New Year!
This new year, don't look back, but look up always! Have a blessed new year!
Do not be afraid to face life. This New Year has a lot of promises for us. Trust God and everything will be fine. Happy New Year!
"New Year is God's way of letting you know that there is still a chance for you to change for the better.
Have a blessed and prosperous New Year!"
"May God bless your family with prosperity, good health and happiness in the New Year.
Happy New Year to you all!"
COVID-Friendly New Year's Messages
Can't wait for this social distancing to be over, so we can hang again!
Have a happy, self-isolating, quarantined, 6 feet apart, socially-distanced new year!
Happy 2022! Congrats on making 2021 such a solid year despite the pandemic. So, so proud and happy for you. Looking forward to all the good things this new year will bring. See you soon!
Even through all the insanity that was 2021, we managed to mark a few happy things off our to-do list. We can't wait to celebrate more great things in 2022 and have you come visit soon!
Happy New Year! Wear a mask, wash your hands, carry your hand sanitizer, and stay sane!
The sun will rise and we will try again. Love you and Happy New Year!
Finally, how to sign off on your New Year's card:
There are two ways to sign off in a greeting. You can use the plural version of your last name, e.g. The O'Connors, or you can use a singular version of your surname plus the word "family", e.g. The O'Connor Family.
If you choose to go with "the …… Family" version, you're done. Just put your surname before the word "Family"!
If you'd like to make your surname plural, see our handy graphic below.
Most surnames, simply adding an 's' to the end makes them plural, even if they end in constonants like the Constantino family. However, for names that end in -ch, -s, -sh, -x and -z, you need to add -es to make them plural. All rules have an exception, and in this case, if your surname ends in -ch but is pronounced with a hard /k/ sound, like in the surname Monarch or Bohmbach, add only an -s, not an -es.
That's it! Just add "the" in front of your pluralised surname and your signature is complete.
**Remember – never use an apostrophe to make your surname plural **
We hope you found something lovely and inspiring to use in your New Year's cards this year. When in doubt, keep it short and sweet. Also, don't be afraid to enlist the help of your children in the process. The younger ones can always add a fun doodle to the card and the older ones can help you address and seal the envelopes.
If you end up using a funny, cute, or sincere sentiment not seen here, feel free to share! Make sure you tag us with @snapfishus on Instagram or Facebook with your photos or use the hashtag #snapfish. You can also follow us on YouTube, Twitter and Pinterest, too!